We have a good network of charities and oganistions who refer their clients to STEPWAY for various re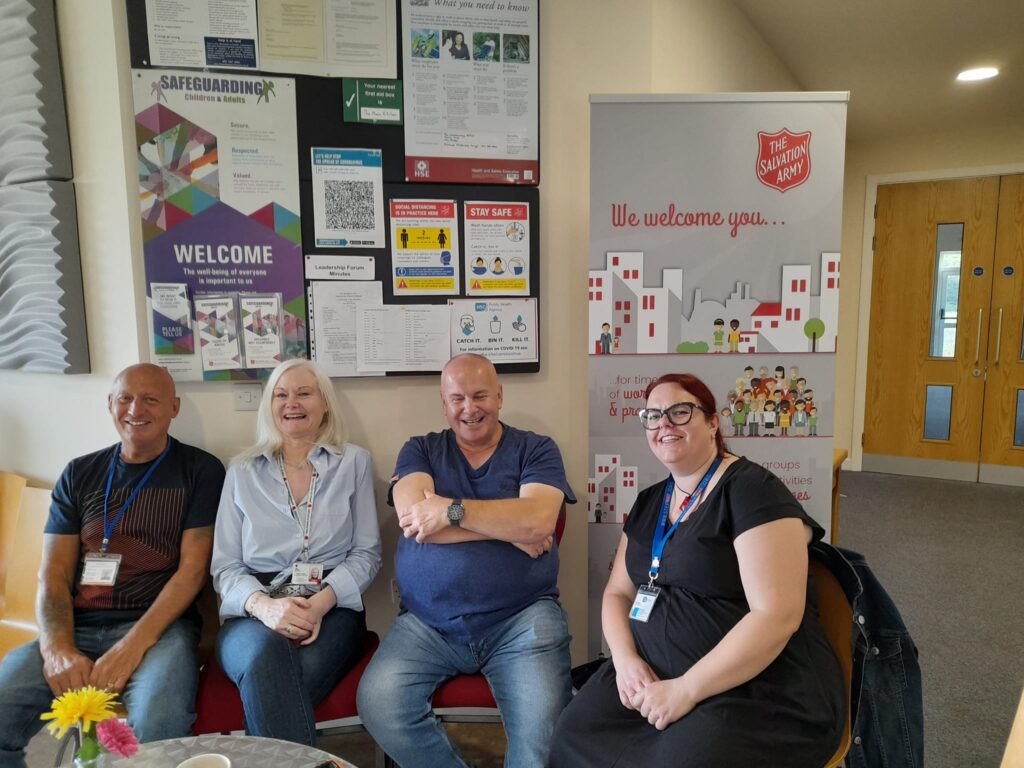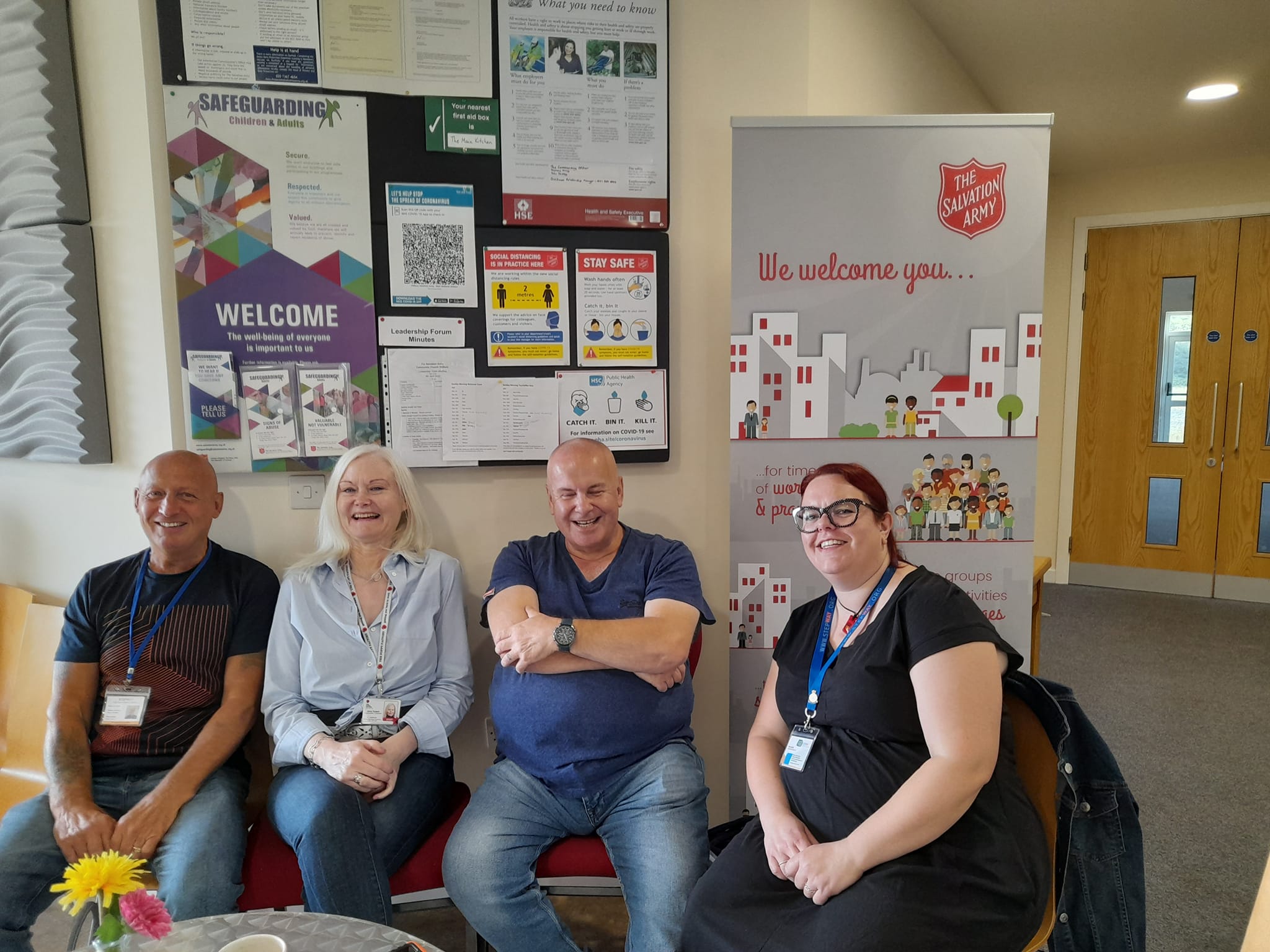 Who Refers their clients?
Many Charities and different organisations refer their clients over to STEPWAY or access our free rooms at the Wellbeing centre. Including, DWP, On-side Advocacy, Op-Courage (NHS) Complex Treatment Service, Housing, Healthy minds and Employment Plus, Salvation Army.
Working together has a bigger positive impact on Veteran care.
Would you like to become involved and be working partners or arrange a cross referral system? Call us today
Worcestershire: 01905 745 253 West Midlands: 0121 7922 723
email [email protected] or [email protected] for more information about our services and on how many ways we can work together.
WHY DO I REFER MY CLIENTS?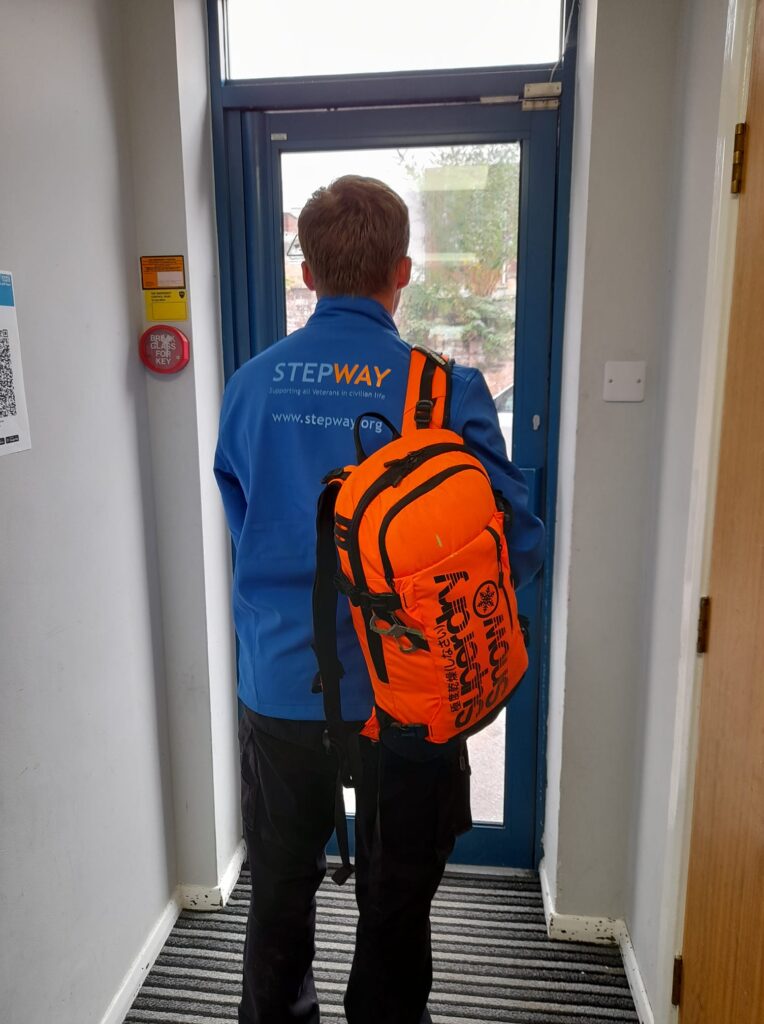 There are a host of different reasons why you would refer your clients
Mental health awareness Social Inclusion Employment opportunities Educational courses Support sessions Early Service Leavers in transition Advocacy Reducing Recidivism Substance Misuse Homelessness and housing Benefits and funding advice Finding a sense of purpose A sense of belonging, Overall wellbeing.
WHAT SERVICES ARE PROVIDED WHICH WE CAN REFER OUR CLIENTS TO?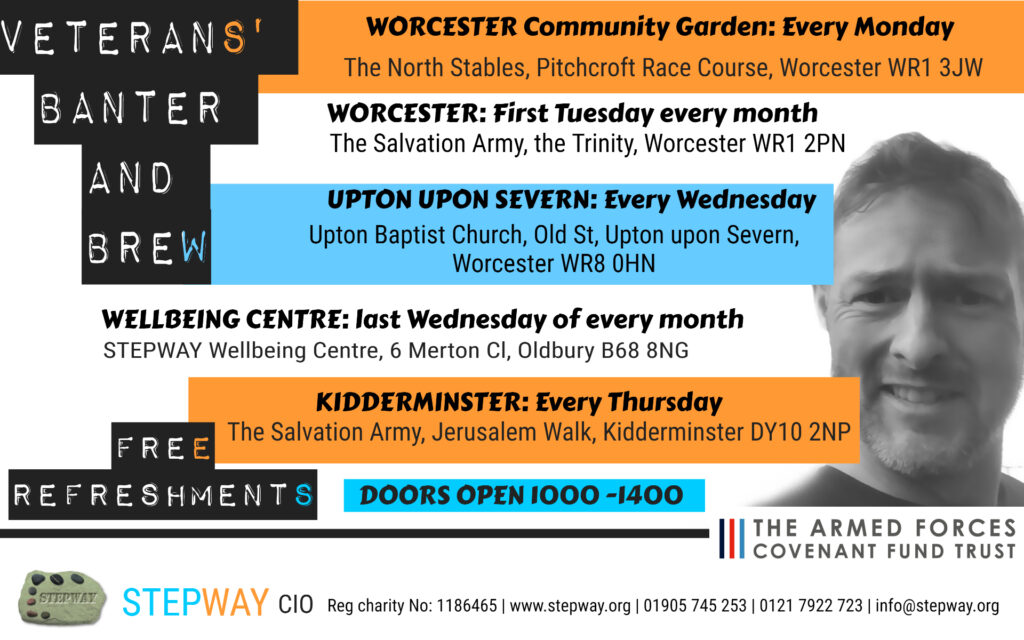 For all Veterans, no matter your circumstance or background. It is a safe place for you to meet like-minded people who have walked the walk. It is a place to make new friends A place where you can relax, pull up a chair and have a brew with your muckers. Somewhere you can have regular FREE refreshments throughout the day.
The 7-step civilian skills program 
by STEPWAY is delivered throughout Worcestershire and Herefordshire This project is funded by the European Social Funding Community grants through Worcestershire County Council and Landau Herefordshire.
This is a FREE 40-hour course for Veterans of the British Armed Forces and family members who find themselves unemployed.
We cover all travel expenses, refreshments and course equipment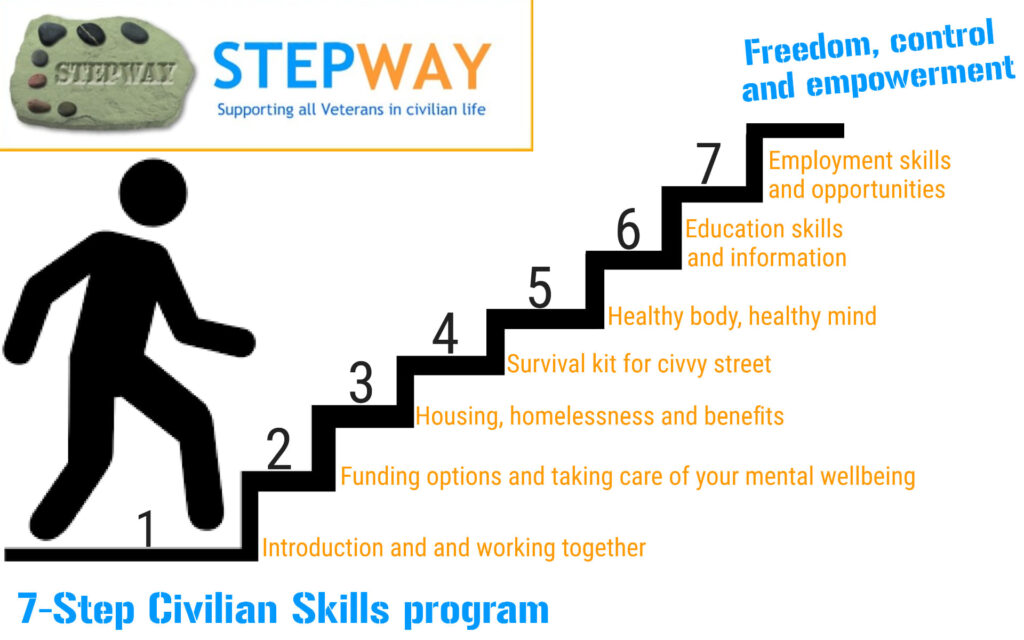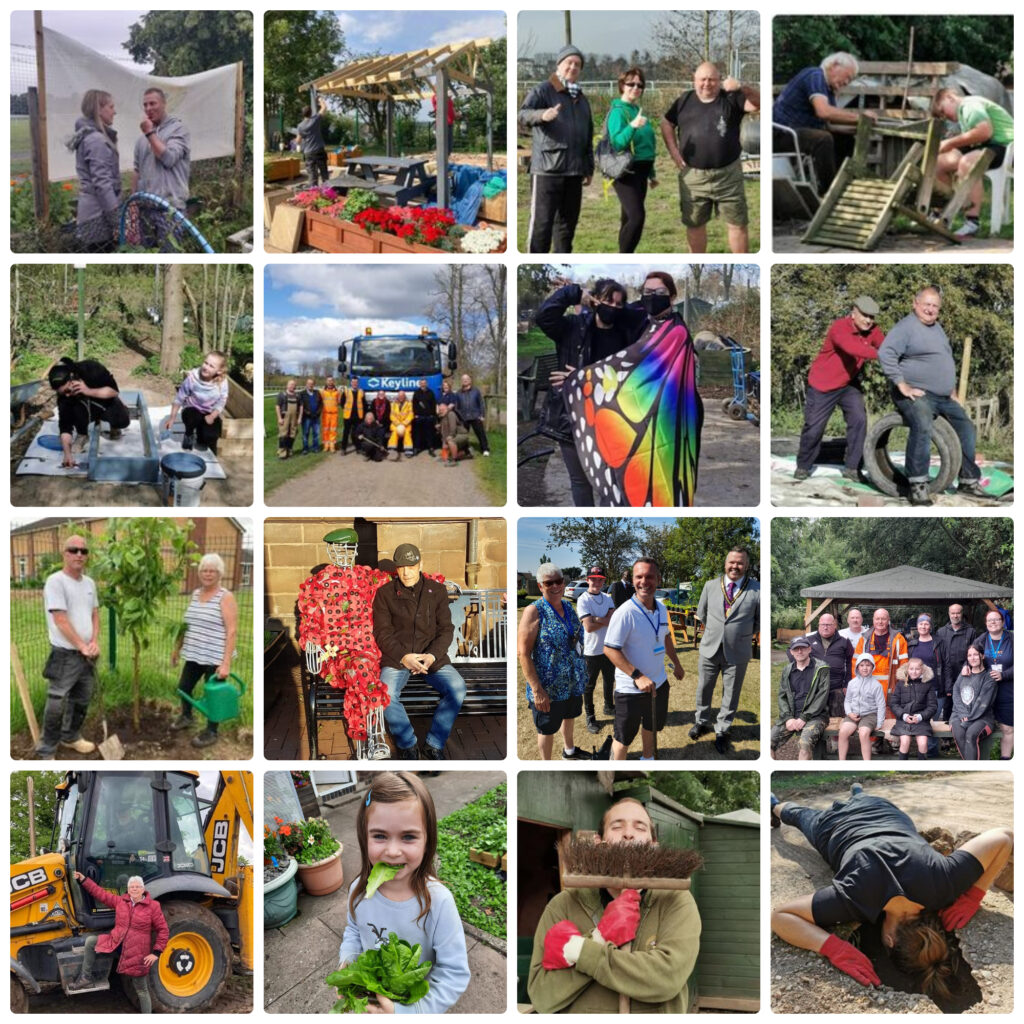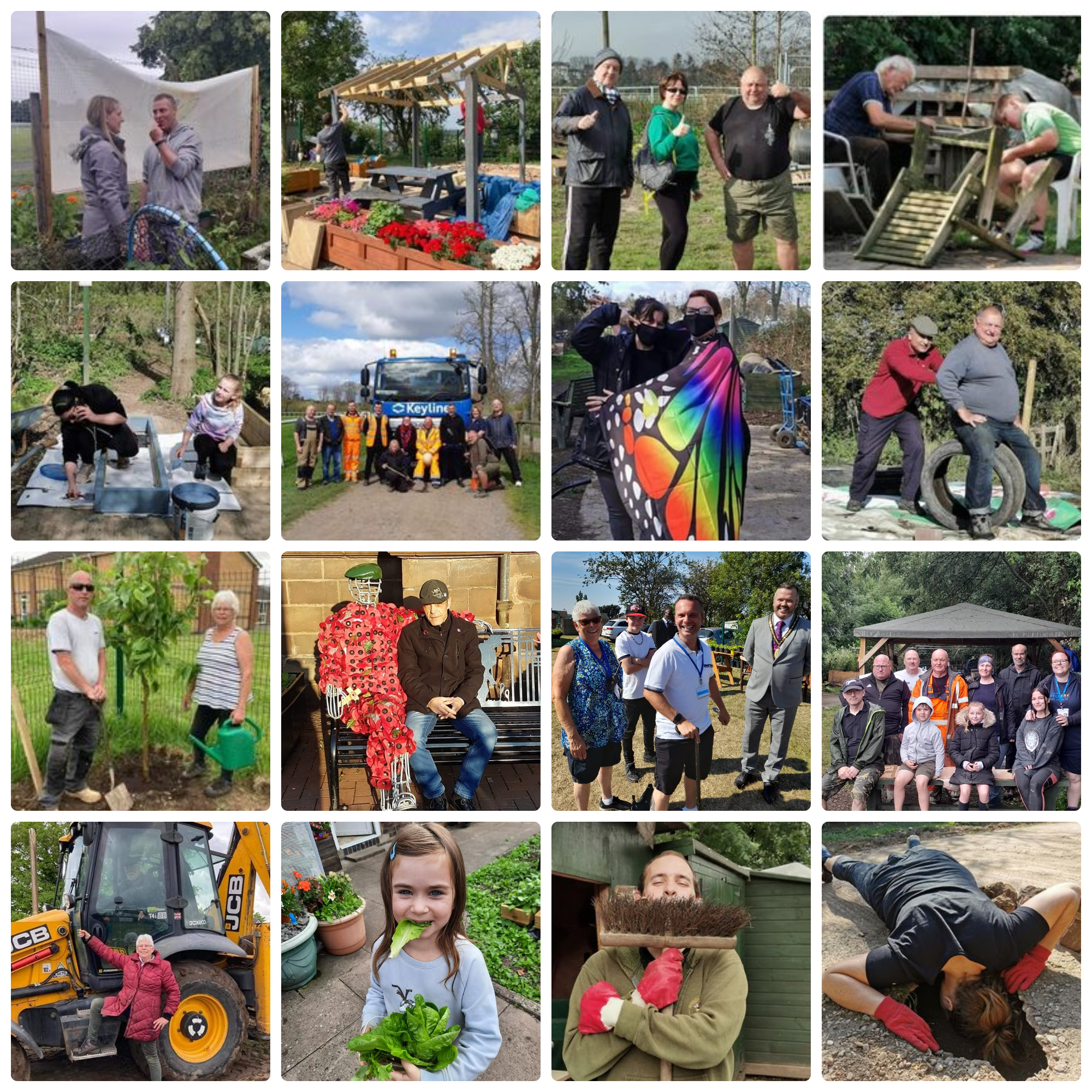 The Community Projects: A journey being involved in the outdoor community projects, involving yourself in group tasks, learning, participating, creating a healthy body and a healthy mind.   These will all play a pivotal role in self-esteem and raising confidence.  In our 7-Step Civilian Skills program, Step 5 is all about a healthy body a healthy mind. How we look at what we eat, the importance of daily exercise, the outdoors clean air and participating in group activities. All of which will have a positive effect on your mental health. 
HOW SIMPLE IS IT TO REFER A CLIENT?
Here at STEPWAY we try to make things as simple as possible by cutting most of the unnecessary red tape out!
To refer your client please complete the short online form.
All our data is kept within an internal network subject to the GDPR Regulations under the 'Data Protection Act 2018' Please see our Privacy Policy for more information.
---
---
---