WELCOME TO BANTER & BREW!
PULL UP A CHAIR AND FIND YOUR SENSE OF BELONGING
Support, friendship, and advice can be found at the BANTER & BREW.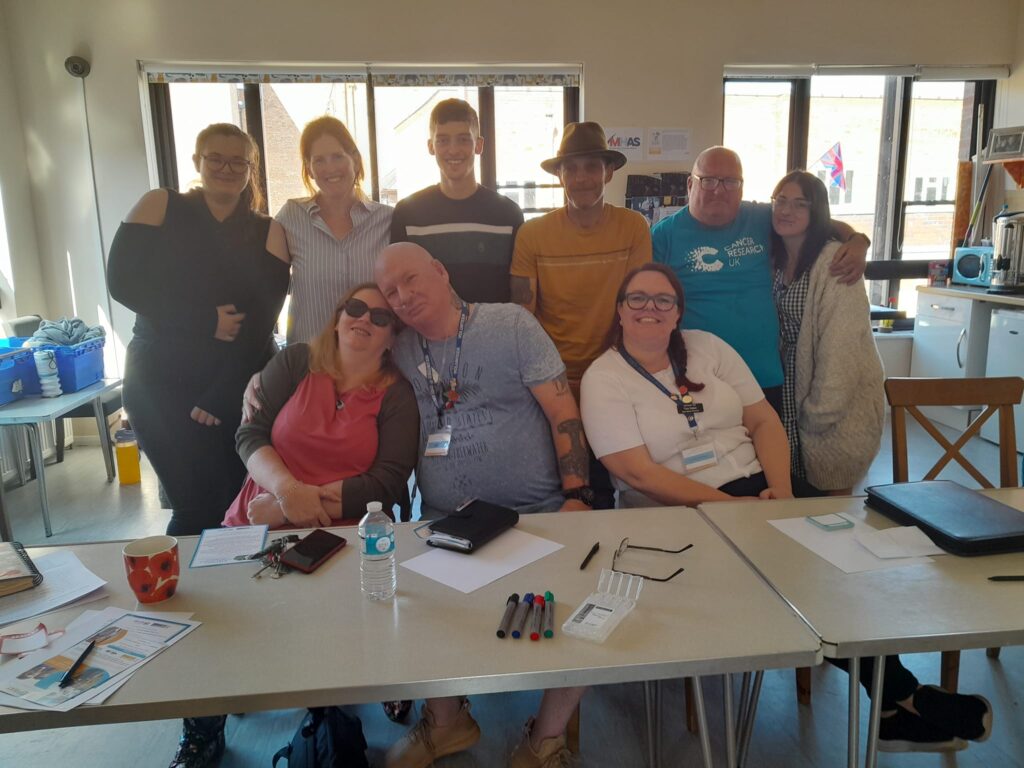 This is where it all started, To find a sense of belonging a drop-in centre was the key to success! The first service provided by STEPWAY needed to a safe place where veterans could visit and talk to others who could relate to their journey. A fun place to be, where veterans can open up and feel comfortable doing so. The Drop-In Centre sounded a bit too like welfare, therefore, it was renamed as the 'BANTER AND BREW'. This quickly became a firm favourite for veterans to come along and grab a free breakfast, take part in activities like the Walk and Talk and Table tennis. Guest speakers started to visit to give a talk on the services they provided or offer free activities to veterans. Warm referrals were put in place to Op-Courage, the Armed Forces Champions at DWP and lots of other organisations came on board, the recent one is the 'Primary Care Network'
If you would like to start a Banter and Brew near you and volunteer to be lead on that project please call the CEO Dawn Turner on 07930657568
To find out more about the Banter and Brew sessions and where they are located please see below.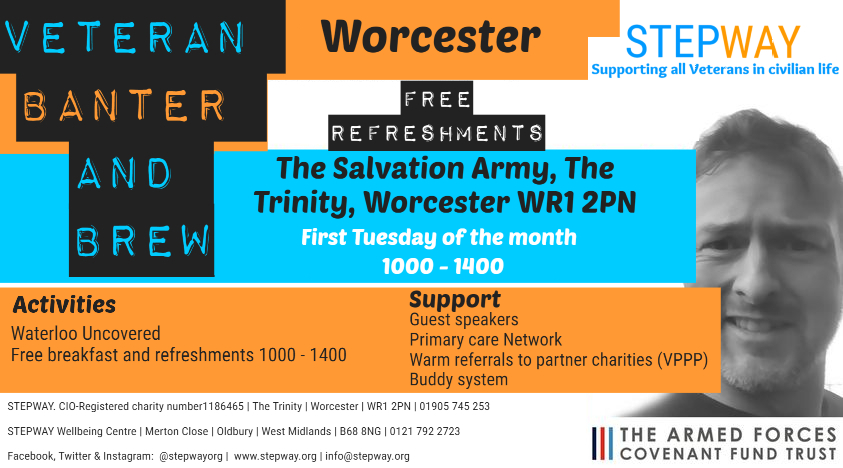 Our first Banter and Brew started in Worcester as a drop-in centre. It has since grown into a fun place to be. Providing a free breakfast, lots of laughs, guest speakers, activities and support on hand if needed. More details found on the poster on the left. Hosts- Dawn, Tina, and Jade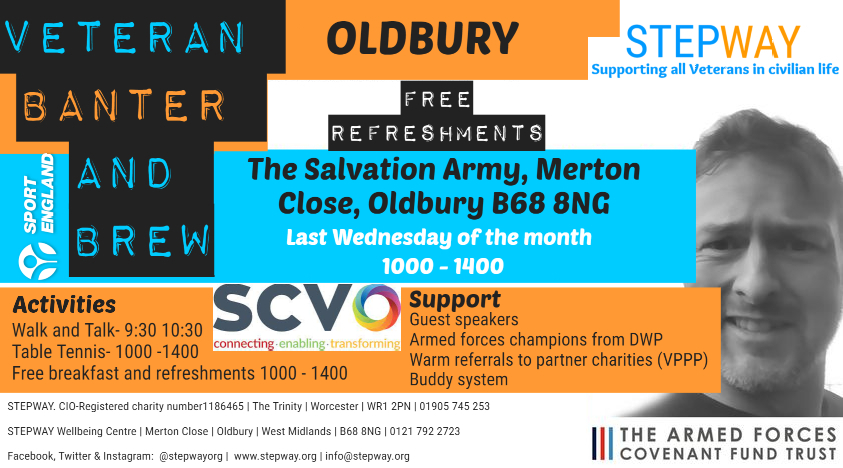 Oldbury Banter and Brew is held at the Wellbeing Centre. You can grab yourself a free breakfast, join in with the Walk and Talk and even try your hand at Table Tennis. More details can be found on the poster on the left. –Hosts- Ray, Neil, Ellen and Sam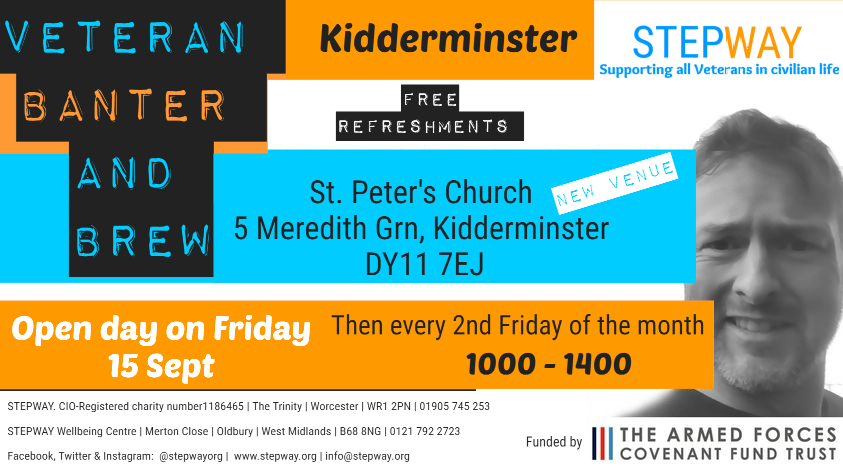 Kidderminster Banter and Brew started at the Salvation Army corps which was our home for the past 18 months. Unfortunately, the Salvation Army had to sell the property which posed the problem of where to hold it. We are delighted to announce, we have found a new home at St. Peter's church. A free breakfast is always on offer with plenty of refreshments during the day. Come along and join in with fellow veterans and help shape these sessions into what you want! More details on the poster on the left. Hosts- Boe, Jade, Tina, Tommy and Mandy.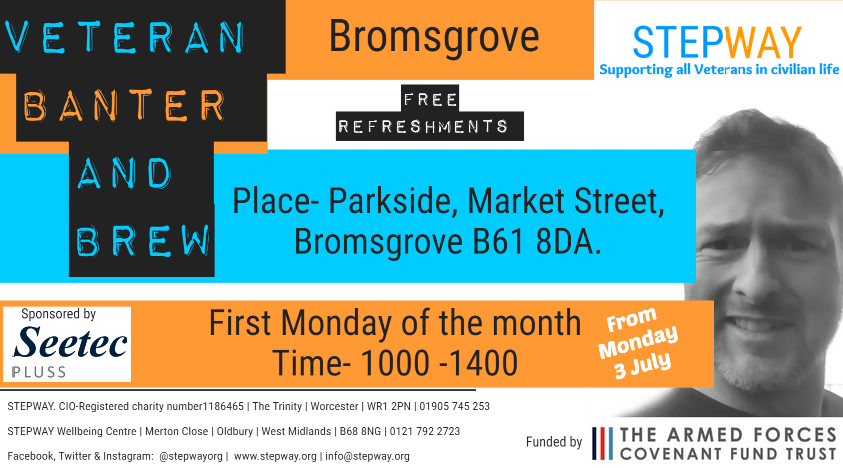 The Banter and Brew in Bromsgrove. Meeting up every first Monday of the month to offer support to the local veteran community. Never a dull moment when you have hosts like Neil and Daz on-hand. Plenty of free refreshments and cake!!!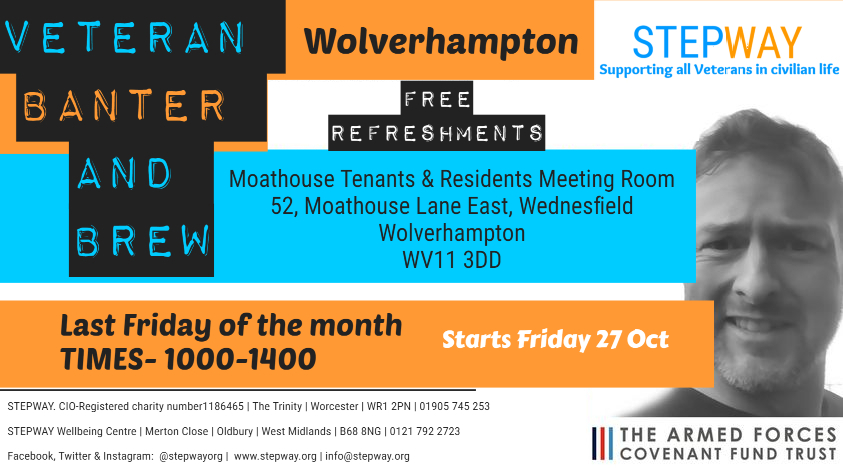 The 'New kid on the block' is the Banter and Brew in Wolverhampton. Offering you a free breakfast. Support if needed. Otherwise, pull up a chair and join in with the laughs and stories. Come along and find your sense of belonging. Hosts- Bill and Neil
The Banter and Brews are a hive of activity, inviting you along for a free breakfast and access to any support needed from STEPWAY or one of our working partnerships, including-
Veterans UK
Armed Forces Champions DWP
Op-Courage
The Poppy Factory
Waterloo uncovered
Primary Care Network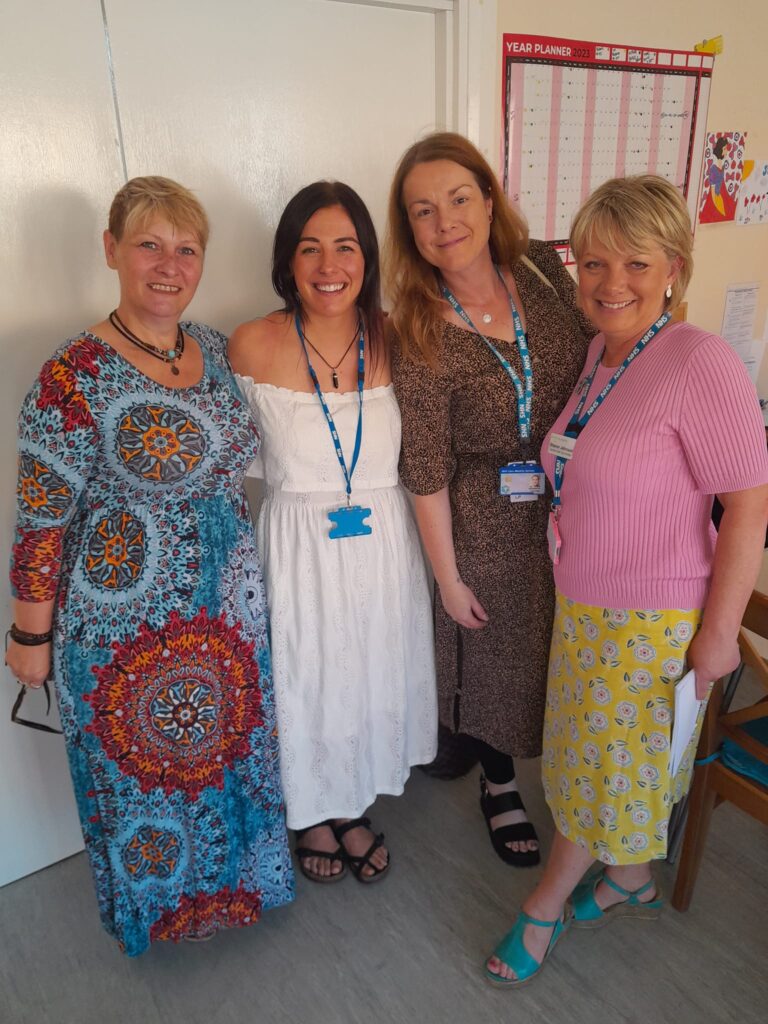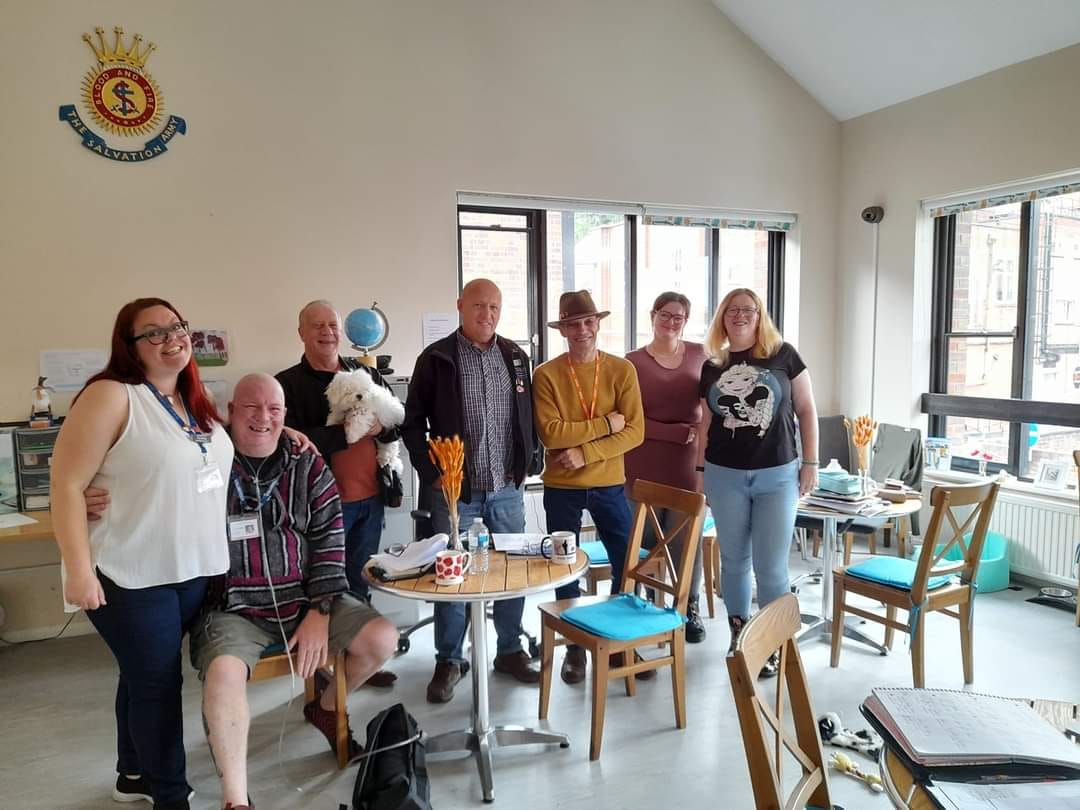 Buddies on hand to support and be your advocate for as long as you need.
We work with a range of organisations and charities like: DWP, Job Centres, Housing, Food banks, debt and Military charities, to name but a few. Therefore, any worries or problems you may be having in civilian life, we can offer you advice and support. We can also offer an advocacy service. This means if you have an appointment but you may be feeling a little anxious about attending alone; your buddie will be able to accompany you until a time you feel comfortable to attend by yourself. We will be there every step of the way!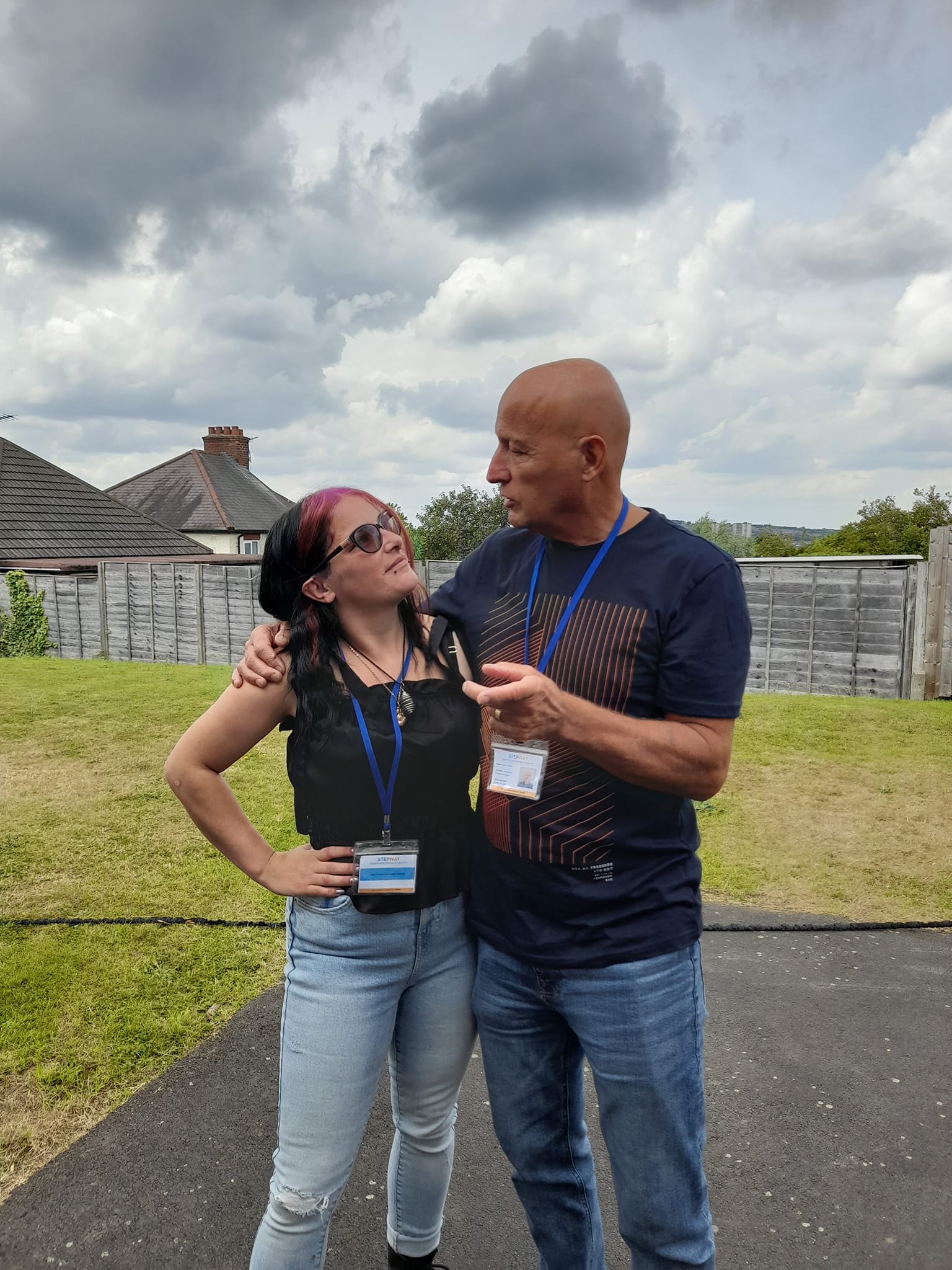 Warm referrals -instead of signposting and always at your pace!
We can all become overwhelmed, depressed or suffer anxiety. We are here to support you and more importantly, listen. We will conduct a needs/well-being assessment. Which is all confidential and we will not share your information to a 3rd party without your permission. Once this is completed and you have attended your first support session, we can advise you on your options. This may be a referral to the NHS Op Courage .If you are waiting for an appointment, we can offer you support sessions in the interim. Therefore, you will always have someone to talk to.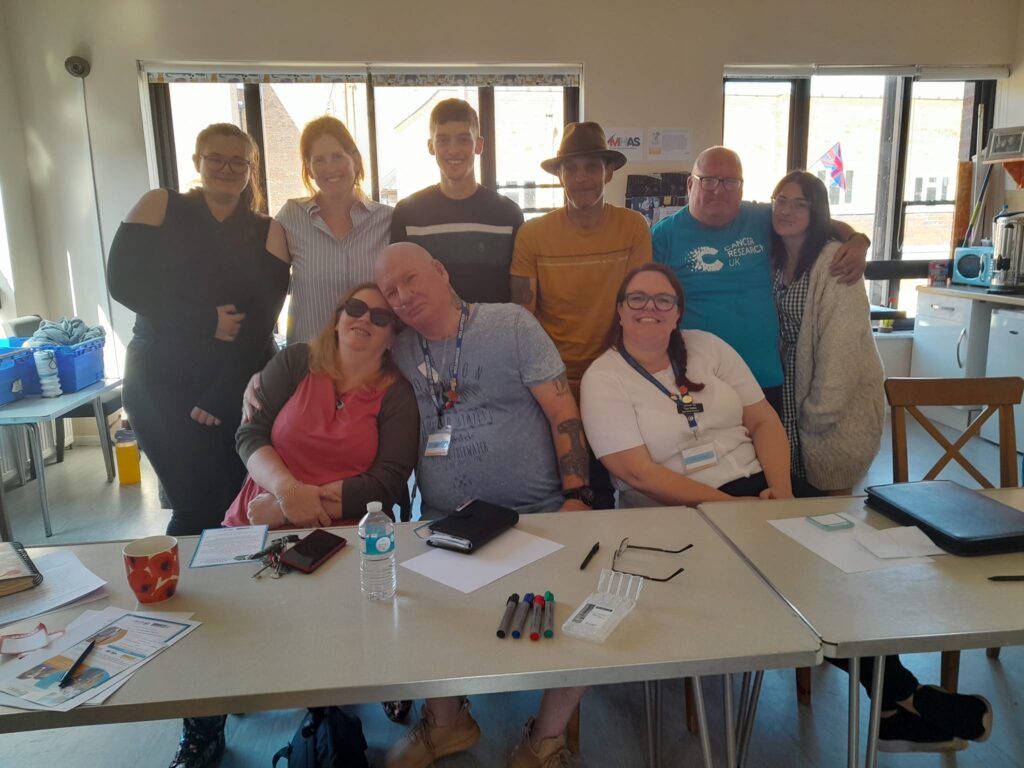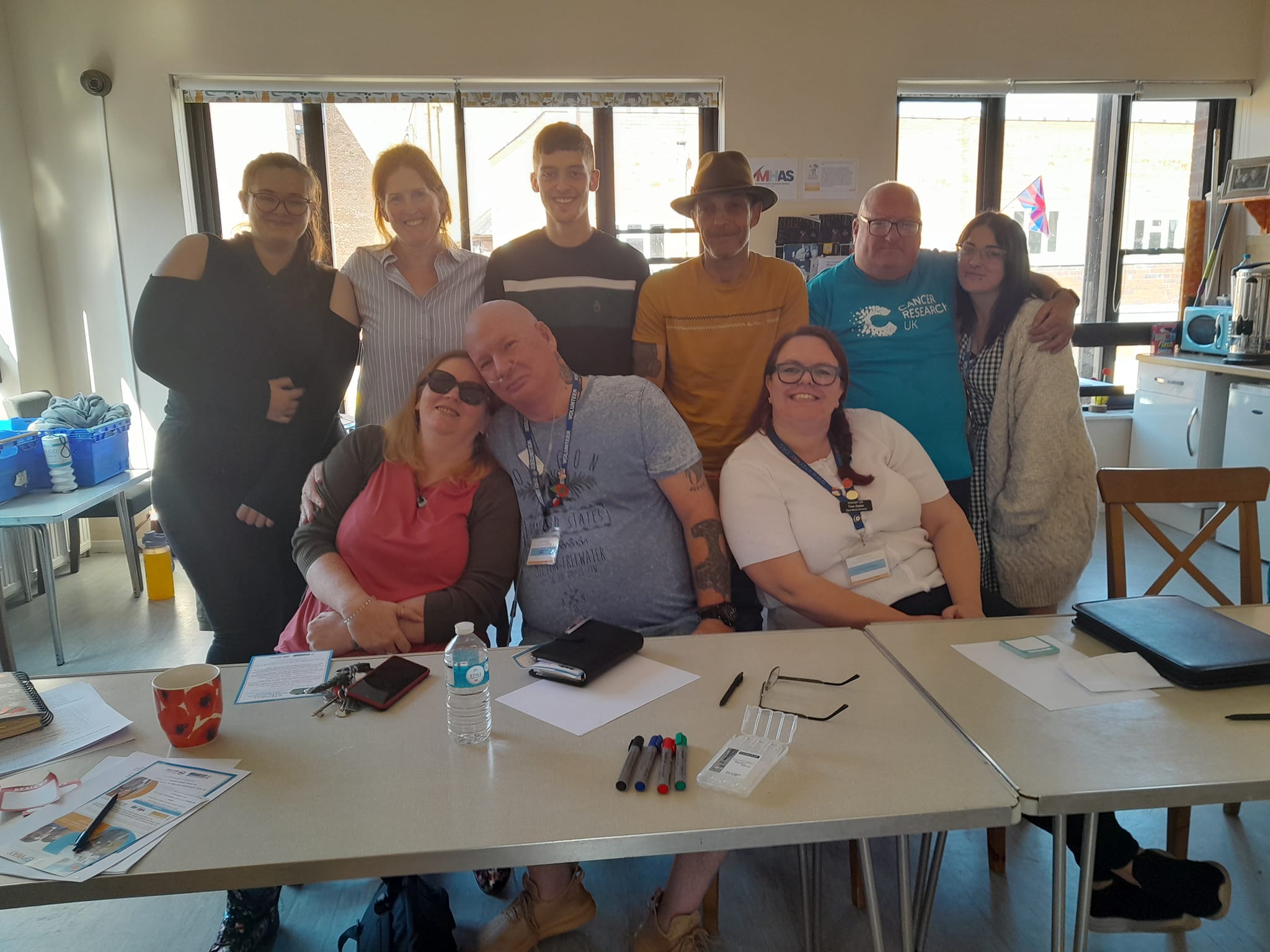 Contact us today, gain buddies, reconnect with your muckers or gain support in civilian life, no matter your background or circumstance.
Find your sense of belonging purpose again
CONTACT STEPWAY TODAY
---