DO YOU NEED SUPPORT IN CIVILIAN STREET? ARE YOU A VETERAN OR A FAMILY MEMBER? THEN YOU NEED TO READ THIS…
As a society we're living longer, by investing in ourselves today. You will be able to sustain a good physical or mental condition allowing many more opportunities in your life.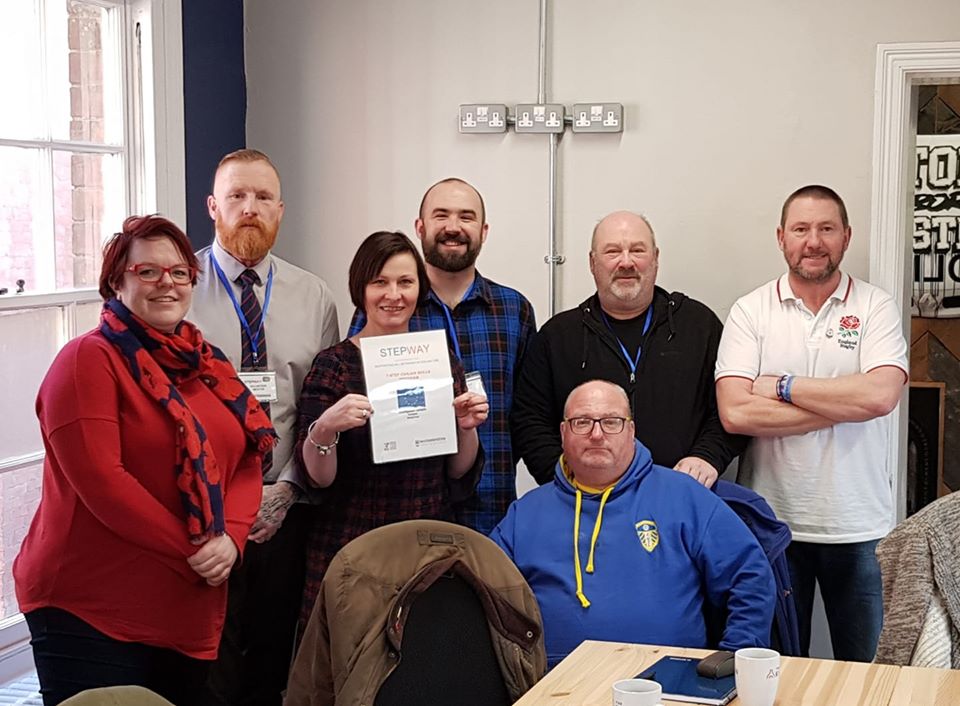 A course which caters for the individual learner…Open to Veterans, potential volunteers and Family members.
Understanding mental health, learning mechanisms to deal with stress, support for dynamic needs, building confidence to sustain and increase productivity within the workplace.
WHAT DO WE PROVIDE? FREE travel expenses. FREE course material and refreshments. A buddy who has walked the walk!
COMPLETION OF COURSE.. The 7-Step Civilian Skills Certificate. Access to education and employment. A reference or report of achievement. Ongoing support.
CREATE A NEW YOU! Let us together, take one step at a time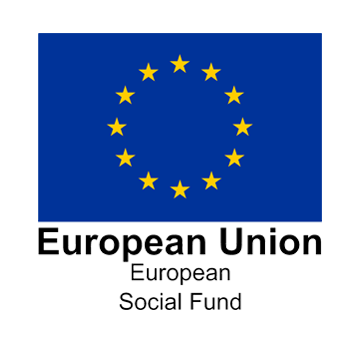 This project is funded by the European Social Funding Community grants through Worcestershire County Council.
The European Social Fund helps local areas stimulate their economic development by investing in projects which will support skills development, employment and job creation, social inclusion and local community regeneration.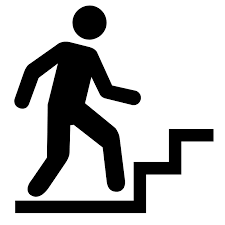 FUN FACTS BEHIND THE PROGRAMS* NAME…
a) When leaving the army, it is 7 clicks to freedom, 7 clicks on the computer mouse to end your army career. Therefore, the natural order of things was the next stage to be the 7 steps, the Survival kit for Civvy street which leads to Freedom, control and empowerment.
b) When you joined the armed forces, you may be trained to become a soldier but not retrained to become a civilian. This happens often if your armed forces career is cut short through medical discharge or to early service leavers (4 years or less). We have people in their 60's 70's still struggling with this aspect of life. We need to reprogram?
c) Decades ago, program appeared in both American and British writing. In the nineteenth century we started to favour the French way of spelling it—programme. However, Program can also function as a verb. It means to reset, regulate to produce a specific result. Hence, the 7-step civilian Skills PROGRAM is exactly that, to retrain, to re-program to make adaption less problematic and in turn, improve mental wellbeing. Therefore, next time when someone asks why STEPWAY? Why the misspelt 'program' in the title, you have the answer.
LAST FUN FACT… How many letters are in the word STEPWAY ?
Testimonials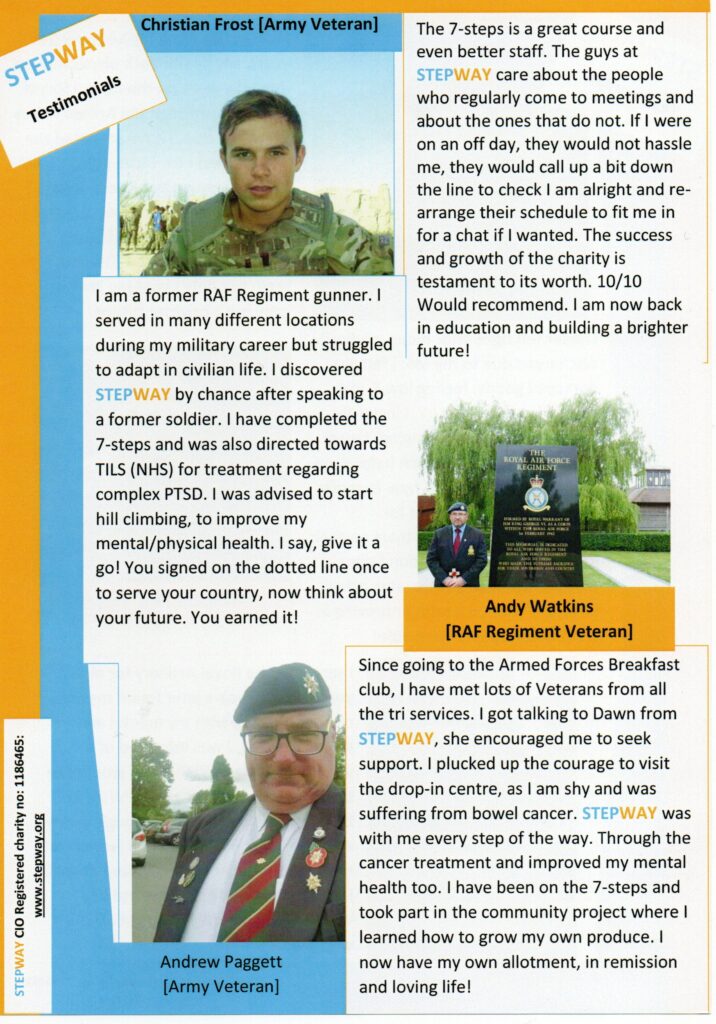 The 7-step civilian skills program by STEPWAY is delivered throughout Worcestershire and the West Midlands. This project is funded by the European Social Funding Community grants through Worcestershire County Council and the Armed Forces Covenant Trust with DMWS.
This is a FREE 6 day course for Veterans, potential volunteers and their family members.
We cover all travel expenses, refreshments and course equipment
DELIVERY PLACES
Worcestershire and the West Midlands
TEXT OR CALL 07930657568 / 01905 745 253 FOR MORE INFORMATION
There is an option for self-referral.
Complete one simple online form and it may be your first step to a brighter future.
Many organisations and charities are turning to STEPWAY to seek support for their clients.
Do you have clients who would benefit from joining this life changing course? Please contact [email protected] or call Dawn on 07930657568 or complete the on-line form